Confessions of a Coffee Stalker
I am SO darned lucky!
I am that creepy old lady with the phone camera paying way to much attention to your work, Barista, and I love it.
I have been involved in and watched the coffee industry and coffee culture for many years, and truly enjoy it. I like to watch the culture grow and change, I like to learn from the players, and I like to cheer them on. I like to taste my way through every year, and luckily I am in a position to do just that; in pretty good fashion.
In the ongoing saga of my semi-coffee-retired life, A round of Coffee Review cuppings done by my husband Andy are underway and I have the good fortune of being a bystander/assistant. In exchange for assigning numbers, weighing out and grinding samples, and otherwise hanging listening to the distinctive sharp slurping sounds while staying out of the way, I get to make my own pass around the table (which has exceptional submissions from both San Diego and around the country), and silently pick apart the qualities for myself. For this particular round, I get to silently try scores of coffees submitted as deep, thick, sticky chocolatey, desert coffees. A perfect way to get in the mood for the holidays! Like I said, I'm one lucky lady! Look forward to reviews  of some brilliant coffees produced right here in San Diego.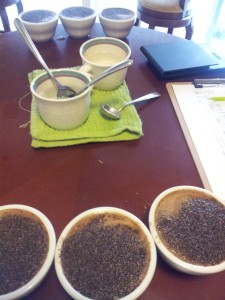 The process of cupping involves evaluating the dry aroma, wet aroma, flavor, body, and aftertaste of each sample in a systematic manner. The protocol is specific, and requires some getting used to, but it is not difficult. The hard parts for most people are developing the ability to commit to what you perceive, calibrating a sense of what specific scores mean, and getting used to the lingo. I'm a coffee arm-chair quarterback, and think you should be one too.
Cupping is sort of a "back end" kind of tasting. It is used by farmers, mills, buyers and roasters to evaluate the product. For some coffee drinkers it wouldn't be described as "pleasant" per se, but it is an intense way to experience coffee and teaches me something every time I do it. If you would like to have a go at cupping, I recommend you ask about an open cupping at one of our local San Diego roasters, like Bird Rock or Virtuoso. Both offer public cuppings to the public, which I find very cool.
For something that still takes you a couple layers deeper into enjoying good coffee, but from the more attractive, "end user" perspective why not head over to a Spro-Down, or latte-art competition? With all of "reality TV" cooking competitions out there, why not get a taste of a real life version, and learn something about your own local coffee rock stars in the process?
San Diego Coffee Network invites you to TNT. from Easy Cake on Vimeo.
You know those pretty little leaves and hearts that baristas pour into your cup? They have names, and yes, there are such things as Latte Art Competitions. You know that dark liquid in your cup that most people drown with sugar and milk? It can be delicious, seriously delicious, and frequently is. But delicious, stand alone espresso is neither easy to make, nor is it cheap for the roaster to produce (hence the sugary milky stuff we drink most of the time).
But in any city with more-than-a-couple devotees of the coffee arts there is a tendency among better baristas to seek each other out for the purposes of sharpening skills, and sharing a few good shots. Its a competition, normally attended mostly by competitors and just a few devoted fans.
An Espresso throw-down, or "Spro-down" is an absolute blast to attend! The San Diego Coffee Network puts on Thursday Night Throw-downs, and will be hosting a Latte Art Competition at the Coffee and Tea Collective this Thursday, October 17th 7-9, $5.00 buy in, winner takes all. How cool is that? Real life coffee slingers battling it out for spare change and a huge slice of glory! Im not being sarcastic at all I love this stuff, and those people, and I think you should too.
So there, two great ways to become a coffee stalker like me. Tasting and critiquing my way through the years, and loving every minute of it. Next step? Those free brewing classes around town!