Fighting the good fight with sleek weapons and morale
I love good coffees. It is no secret. You know what else I love? Machines. I love the machinery we use to prepare and present coffees. They are fun, and often gorgeous. They also represent commitment and that is what I was thinking about today. What I love even more than machines, are people. Those three loves have to come together to present fabulous coffees. All three.
It can be difficult to commit to a few thousand dollars in equipment that may or may not bring in any more cash than its predecessor. We put plenty of thought into equipment decisions. Often, the majority of that thought focuses on easily quantifiable benefits, but I am convinced there is more to it.
Many experts assert that the grinder is the most important tool a coffee shop can invest in. There are things you can cut corners on, but a bad grinder can just make your every effort mediocre at best. A great grinderwill;
Improve speed of service
Improve drink quality
Improve cleanliness
Improve consistency
But did you know that a good grinder can also;
Make your staff more interested in their job
Get both staff and customers more interested in your coffees
Cause the tables to be cleaned more quickly
Improve customer service
Make you smile!
Im not kidding. I think that getting better tools, as long as you also show people how to use them, and demonstrate why it matters, can turn a whole shop around. Everybody appreciates going from 20 seconds to 4 seconds per shot, and everybody appreciates better espresso.
Let me tell you how stoked I am about having a new set of amazing grinders! We recently acquired a gorgeous Mahlkoenig EK43 for our warehouse. What this means for us is not just that any coffees unfortunate enough to be pre-ground will not have been baked in the process or have uneven particle size. It is not just that anything we brew at the lab will be just plain better, and made in halfthe time. Let me tell you what it means to me as a roaster. It means we are committed to doing things as well as we can.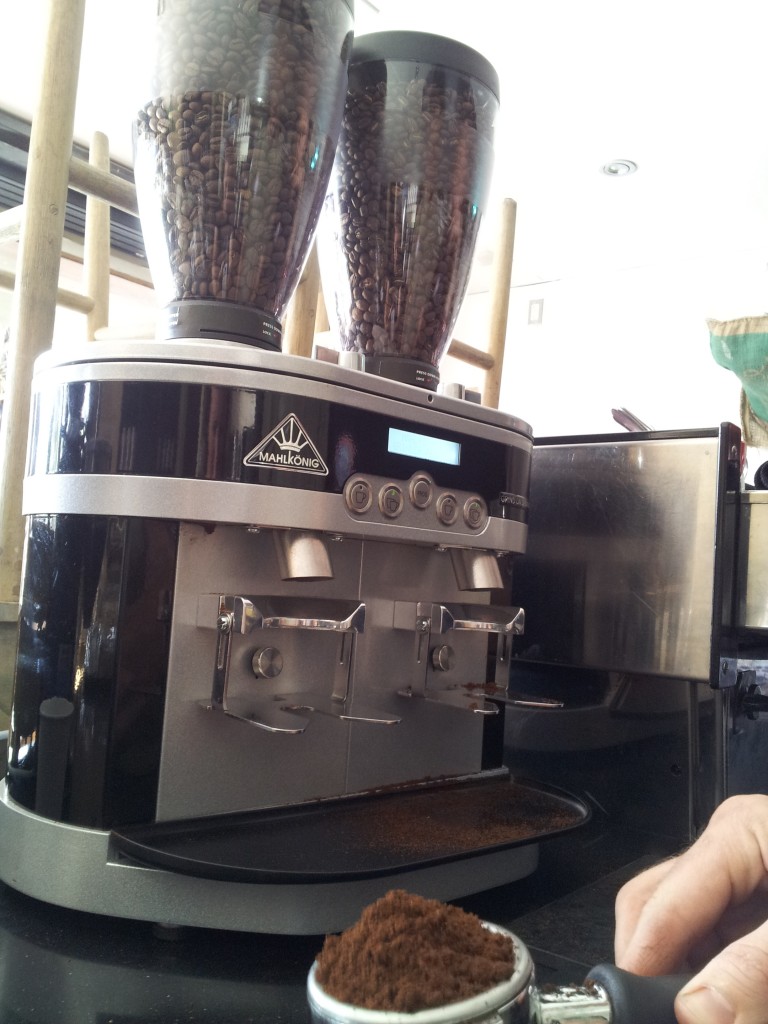 When I had the honor of plugging in a Mahlkoenig K30 Twin at the cafe, it felt great. Yeah, the old grinders functioned, but they were very slow, and awkward. On top of that, the staff was not consistently dialing in regularly, regardless of our preaching. I don't know everything about how to convey how serious I am about wanting to present amazing coffees, but I am convinced that physical changes at a cafe, and the training and retraining that comes along with it are one piece of that puzzle.
Rather than pitching a fit every time I walk in and find the staff of the cafe can't tell me about one of the espressos, or hasn't dialed in the Decaf, I would rather try to draw them to the light. After all, the cafe I work with has historically been food focused, and the staff is actually quite amazing. I cannot think of a crew that I would rather be blessed to work with, but we are turning a tight corner.
The joy of putting some new equipment in their hands is not just that it is showy and does a better job. But it reopens all those conversations. And it gives me the chance to once again ask, are we even worthy of all these tools we have in our hands? Can we make the investment in quality effective by using the equipment to the fullest? Can we take the next step toward making every shot of espresso as good as it possibly can be?
Roaster, Brain Gerhard, is obsessed with the prospect of amazing espresso. He focuses on how he can work with the coffee itself toward that goal, and regularly returns from the cafe stressed out of his mind, not over "bad" espresso, but simply that he wasn't amazed the way he wanted to be.
There is no one single answer. The formula is a blend of sourcing, roasting, training, equipment, water quality and of course the final piece in my opinion is motivation. None of the first items on the list will necessarily add up the last, but they all have the potential to add to it. Plugging those expensive, but OH so amazing machines in helps put some glean in the eyes of the team.
So to all the stressed out, broke, but committed Coffee Entrepreneurs out there, a tip of the hat. Your investments matter. You are doing God's work. You are fighting the good fight. Get the grinder. It is so worth it!