Cafe Virtuoso – Barrio Logan
Hubby heard me complaining  that all Coronado has for coffee is SBX, and the Coronado Coffee Company cart at the ferry landing.
Tired of hearing me whine, he drove me over the bridge for something better.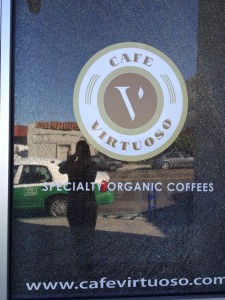 Cafe Virtuoso is at 1616 National, convenient to Downtown, Coronado, and several different commute routes, for those willing to make a quick detour to improve their day. It looks like this area is in a hipsterfication flux, and please dont take that in the wrong way.
The espresso bar boasts a Strada, the sight of which made me a little giddy. I promptly ordered two capps, and wandered over to the beans. I want to point out that within ten seconds a friendly young woman was at my side anxious to answer questions, and discuss the coffees. I like that. When a roaster takes the extra care to deliver good coffees, I appreciate them also taking the extra step of telling me what is good about those coffees.
The very pretty, bright yellow Deidrich coffee roaster, so prominently displayed is also cool. The young man at the roaster was not anxious to share information, but I enjoyed gazing at the roast profile on the screen and getting on his nerves.
My view is that if you put a fascinating process out on display, use it as a tool to further engage people. That means troubling the roaster to enthusiastically draw customers into the fascinating details of what he is doing. It elevates the differences between good roasting and mediocre roasting, and increases the percieved value of better coffee.
I enjoyed my capp. It was a huge boost to my day. Of note, both the shots of espresso, and the milk texture for the two identical drinks were different. The milk on both capps was slightly looser than standard, and one of the capps had large bubbles, the other silky small bubbles. On the other hand, I really enjoyed drinking my drinks. I did not have a shot of espresso, but next time.
I would like to point out that Virtuoso welcomes the public to cup with them on Friday mornings. This is very cool. If you have not cupped coffee it is an interesting experience for most people, and worth getting up early to learn about. Please see the website for details. I have not yet participated, but plan to.
Please take advantage of their whole bean program. Virtuoso provides a courtesy coffee with your bag of beans, and sells brewing equipment and filters.
I learned that Cafe Virtuoso is focused on their wholesale program, and you can get their coffee at a long list of local restaurants and markets. You can find the list, on their website, and I hope the list grows.
What I would like to see:
I would like to see the Barista game tightened a bit. The staff was friendly, and served a better than average drink. With that machine, and considering the impressive level of investment in elevating the coffee game, more and better is my feedback.
I would like to see more specific discussion of flavor with the customers, and I like to be told what coffee is on bar, what espresso is up, what is this free coffee you gave me, etc.
I would like to see local sprodowns. I think San Diego needs a good coffee fight.
Thanks to Cafe Virtuoso for fighting the good coffee fight!