Carnitas Snack Shack – Follow the pig
It is a huge raging clue when you see two apparently similar restaurants next to each other, but one of them has a line wrapping around the block, while the other boasts one frugal gentleman in the corner, quitely working on his laptop, nursing a lukewarm horchata, and the last of his rolled taco crumbs.  When I pulled up at Carnitas Snack Shack, at 2632 University Avenue in North Park, that is what I saw. Dozens of people lined up getting sweaty and sunburned as they waited patiently for their turn at the window.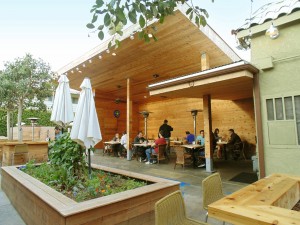 I got so happy! I slathered on some sunscreen and  jumped into the end of the line enthusiastic as ever. Thankfully, the line moves along at a decent pace, and the seating at the back of the store can handle quite a few people.
Carnitas Snack Shack was described to me as both "gourmet fast-food", and as "farm to table/So-Cal-porkfest". The website describes them as "slow-food inspired, pork centric, American cuisine". Can we have "slow-food/fast-food"? I dont really know, but if there is a place to give it a try, San Diego is a it.
What was delivered to my table was delivered quickly, and the names of each of the items could all be found on a fast-food menu. That is where the similarities ended.
We were served generous portions of delicious, fresh, and well thought out food, paired with local craft beer, by a fast moving, but attentive staff. The prices are appropriately higher than the taco stand down the street. Good food costs more, always, and it should.
It is important to note that the menu is subject to change, which is a very good thing. If a restaurant is attentive to the seasonality of good ingredients, this translates into a flexible and consistently fresh menu. It is nice to see excellence prioritized over predictabililty.
The portion sizes are generous, so be careful not to over-order. I am accustomed to getting a plate full of little street tacos, however a taco from Carnitas is loaded with very rich meat, so there is no need to go overboard. Plan ahead if you have a short lunch break, maybe send a friend ahead to get in line to place the order.
I highly recommend a trip, and my condolences to the taco stand nearby. Did I mention you can actually follow their pet pig on facebook? I wont even get into the topic on naming a pork-centric restaurant after your adorable pet pig, because my head might explode, but go ahead, follow the pig.