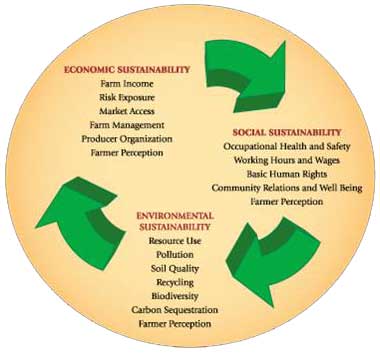 Sustain This – #nofreerefills
Catherine Murphy Mwangata, like many of the ladies present at the International Women's Coffee Alliance conference, doesn't mince words
"It seems to me there is an awful lot being done to hold farmers accountable for sustainability but there's a whole other question when it comes around to the other side of the table"
Her thick Irish accent, and the confidence of twenty years living in Tanzania makes me hope this isn't the beginning of a bar-fight. Or maybe I hoped that it was or is or will be, and think it should be. Some things are fight worthy. As I sat having dinner with an Irish/Tanzanian representative or Cafe Africa, and rather direct talking Ugandan farm owner, I found it difficult to duck the reality of what they both said.
Over the course of the recent IWCA event in Bogota, Colombia, much appreciation for the role of women in coffee was shown. Motivating speeches, data reviews, and looks at various markets worldwide were presented. The many participants included Daniele Giovanuccci of COSA, Ric Rinehart of SCAA and even a panel representing the entire Mcdonald's supply chain. This was a diverse international gathering with 30 countries represented.
Much acknowledgement can and should be given to the work of the IWCA, and of it's founders. This is a genuine group of strong and like-minded men and women. Yes men. There are many men in this group, and they deserve a nod as well. So much was discussed, in so many languages. I will not try to give a run down of the event as a whole, but rather to present just one portion at a time.
So where to start? Let's start with one of the most commonly used words in Specialty Coffee.
Sustainability
COSA presents sustainability using three categories. Social, Environmental and Economic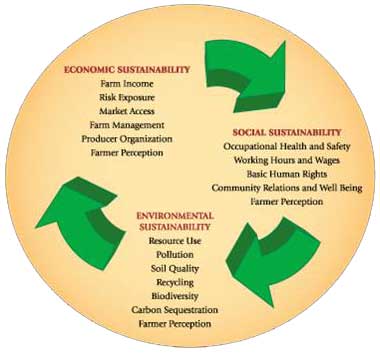 I like the info-graphic above, because it separates key elements important to keeping the Specialty Coffee industry up and running. The industry is an ecosystem, and as such must think in terms of maintaining all of it's parts. But when we say sustainability what does it really mean? If you are a member of the public who is new to this topic you may associate much more with this word than it actually implies. In fact it may mean much much more to you than it does to some of the people who use it the most. Farmer's Brothers sustainability manager Molly Laverty described it quite simply.
Can and will the coffee continue to be produced in its current form and by its current method without a system collapse or other disruption. Can we keep this going? That is the very stark question she is tasked with addressing. Its a word that is full of implications and images if you are strolling through whole foods, but if you look at without all of the pictures of lovely green leaves and smiling ladies holding baskets, the word means nothing more for a person in her role.
An important presenter in the conference was Daniele Giovanucci, of COSA. His talks were revealing and interesting, even if he was pretty aware that a bunch of charts and graphs don't come across very well first thing after lunch. Below is a summary of my view of what he presented as it applies to Specialty Coffee.
Two main points Mr Giovanucci presented;
The ratio of Specialty Coffee to Commercial grade coffee is increasing steadily, with solubles remaining fairly flat.
The ratio of coffees which hold an environmental, social, or economic certification is also increasing steadily.
He also put forward three reasons this information has meaning for Colombia in particular
The requirements for certifications align well with Colombia's existing strengths
Given the high cost of production in Colombia, higher prices are needed to make growing worth while (making inexpensive coffees a bad choice)
The diverse benefits a country which works at an improved standard experiences (less pollution, increased social equity etc)
Giovanucci also balanced this information with the findings of a 4.5 year review of the overall success of certification programs at origin, and producer satisfaction with their participation in those programs. The findings are mixed, and of course require context to apply. Though I will likely get in trouble for this very non-specific summary let me just go ahead and say that what it essentially comes down to is;
Social and environmental certifications appear to be yielding positive fruit in a significant way, whereas economic certifications present mixed and less clearly beneficial results
More bluntly put
The farmers are doing their job, and we are not doing ours
This is the way I heard it. Based on questions and comments from the crowd, many of the producers heard the information in a similar way. Their performance is going up. Farms are doing what is asked of them to make the people drinking their coffees feel good about where the coffee comes from, but the benefits they receive from certifications are much less clear, based on the data presented.
The study, and this article, in no way devalue FairTrade, UTZ, Rainforest Alliance, USDA organic or any other. I have respect for the work of these organizations. In fact the study appears to show solid benefits in environmental and social areas. However farmer responses to the two questions below, are revealing of our need to go farther. Much much farther. Consider the summarized answers to these two questions;
Will you still be farming coffee in five years?
Would you be happy if your child decided to be a coffee farmer?
In countries with options, the answers were negative. With some regional differences, there is spotty enthusiasm for the trade, or optimism for a good future in it. In countries with limited choices the people were likely to stick with coffee, or encourage their children to. In developing economies the reverse is the case. Farmers participating in sustainability programs want out and want their kids out of coffee, if there are options. Are there more complexities at play? Yes! Is this across the board? No! But it is significant.
Sooooo, is certified sustainable coffee inherently sustainable?
I don't think that it is. Documented benefits are present in the academic work, but in a world of increasingly informed people, buyers will not be able to sustain the enthusiasm of producers for their work without holding up our end of the bargain.
Is there a second side to the sustainability coin?
I believe that there is. I believe that if ones view is simply to protect the stability and continuity of production that there can be a reticence to fully inform or empower the ladies producing the goods. Options. What if we were going to a place where we actually feared our producers having information and options, as a result of a single word? Perhaps Sustainability is a word we can move beyond if it is defined in such a limited way.
As always, it comes down for our willingness or unwillingness to pay for the products we consume. If we trust communities to handle their own cash rather than resort to the care of programs or charities and if we genuinely respect our partners in trade, I propose we just pay more for the coffee and leave it at that. Roasters have to make money too, so lets pass it on to the customer. No free refills. Anyone who is giving away the benefits of producers hard work should feel a bit wrong about it. #nofreerefills. pass it on.